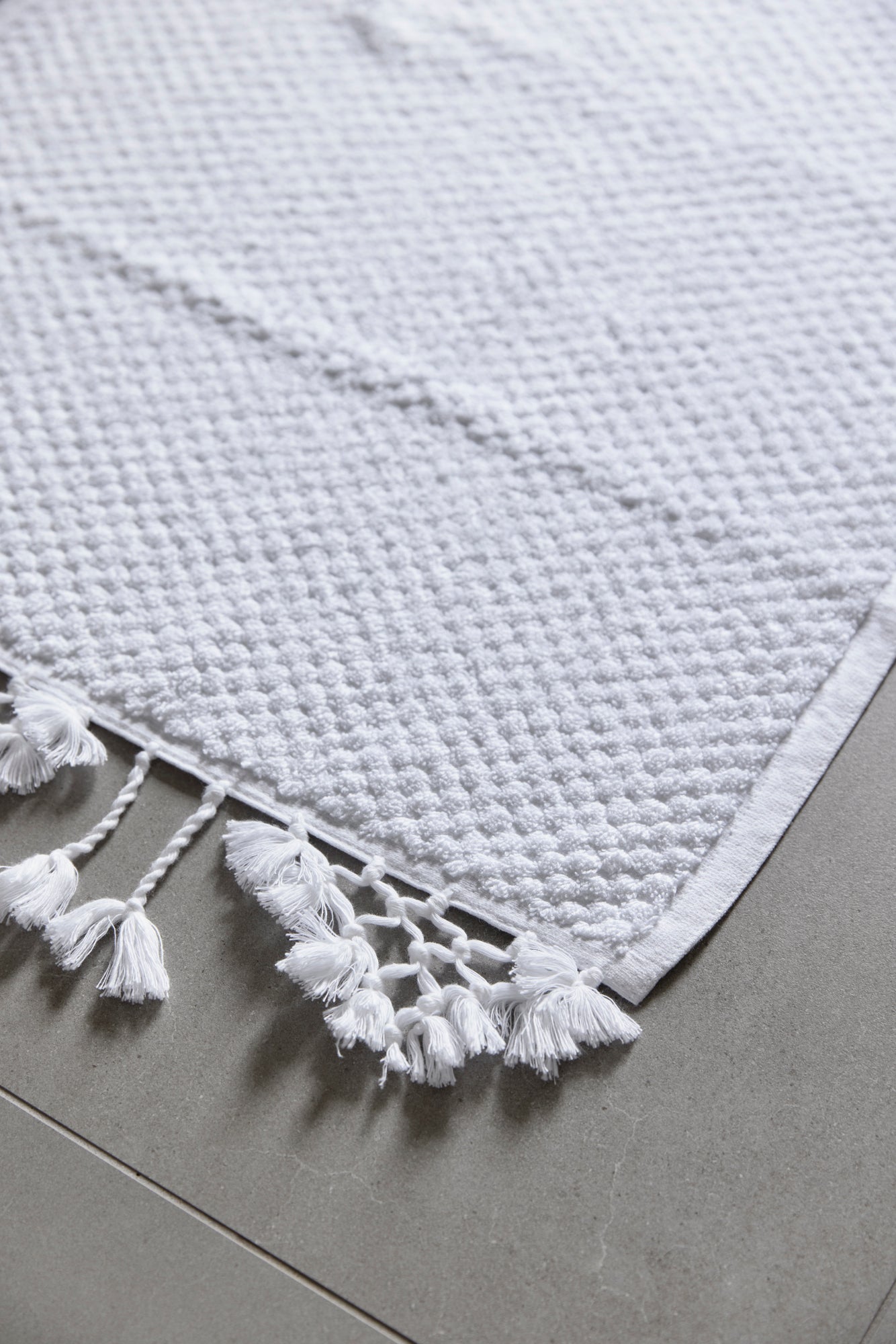 White Dot Bath Mat
Product Details
The intricate weave of our Bath Mat provides a luxuriously soft and plush texture under foot. The unique tassels have been meticulously hand tied for a decorative addition to your bathroom.
Our products are made in Turkey on traditional shuttle-looms with time-honoured processes, enabling a level of uniqueness and superior quality that is uncommon today.
Material Details
100% Organic GOTS certified cotton.
Beyond the environmental benefits, organic cotton is more soft, absorbent and longer-lasting.
Size Details
45 x 80 cm
Towel Care
Gentle cold to warm machine wash with a natural laundry detergent and either gentle tumble dry or line dry.
We also recommend placing your Bath Mat into a delicates wash bag to protect the intricate tassels.
Snip any loose threads.
The Collection
A bright and fresh design in two weaves for that hotel look and feel at home.
document.addEventListener('DOMContentLoaded', function() { function isIE() { const ua = window.navigator.userAgent; const msie = ua.indexOf('MSIE '); const trident = ua.indexOf('Trident/'); return (msie > 0 || trident > 0); } if (!isIE()) return; const hiddenInput = document.querySelector('#product-form-template--15270574719128__main input[name="id"]'); const noScriptInputWrapper = document.createElement('div'); const variantSwitcher = document.querySelector('variant-radios[data-section="template--15270574719128__main"]') || document.querySelector('variant-selects[data-section="template--15270574719128__main"]'); noScriptInputWrapper.innerHTML = document.querySelector('.product-form__noscript-wrapper-template--15270574719128__main').textContent; variantSwitcher.outerHTML = noScriptInputWrapper.outerHTML; document.querySelector('#Variants-template--15270574719128__main').addEventListener('change', function(event) { hiddenInput.value = event.currentTarget.value; }); });
{ "@context": "http://schema.org/", "@type": "Product", "name": "White Dot Bath Mat", "url": "https:\/\/loomtowels.com\/products\/white-dot-bath-mat", "image": [ "https:\/\/loomtowels.com\/cdn\/shop\/products\/Loom_May20220111_1334x.jpg?v=1658971617" ], "description": "\nThe intricate weave of our Bath Mat provides a luxuriously soft and plush texture under foot. The unique tassels have been meticulously hand tied for a decorative addition to your bathroom.\nOur products are made in Turkey on traditional shuttle-looms with time-honoured processes, enabling a level of uniqueness and superior quality that is uncommon today.", "sku": "LT20WD02", "brand": { "@type": "Thing", "name": "Loom Towels AU" }, "offers": [{ "@type" : "Offer","sku": "LT20WD02","availability" : "http://schema.org/InStock", "price" : 99.0, "priceCurrency" : "AUD", "url" : "https:\/\/loomtowels.com\/products\/white-dot-bath-mat?variant=37267888472216" } ] }