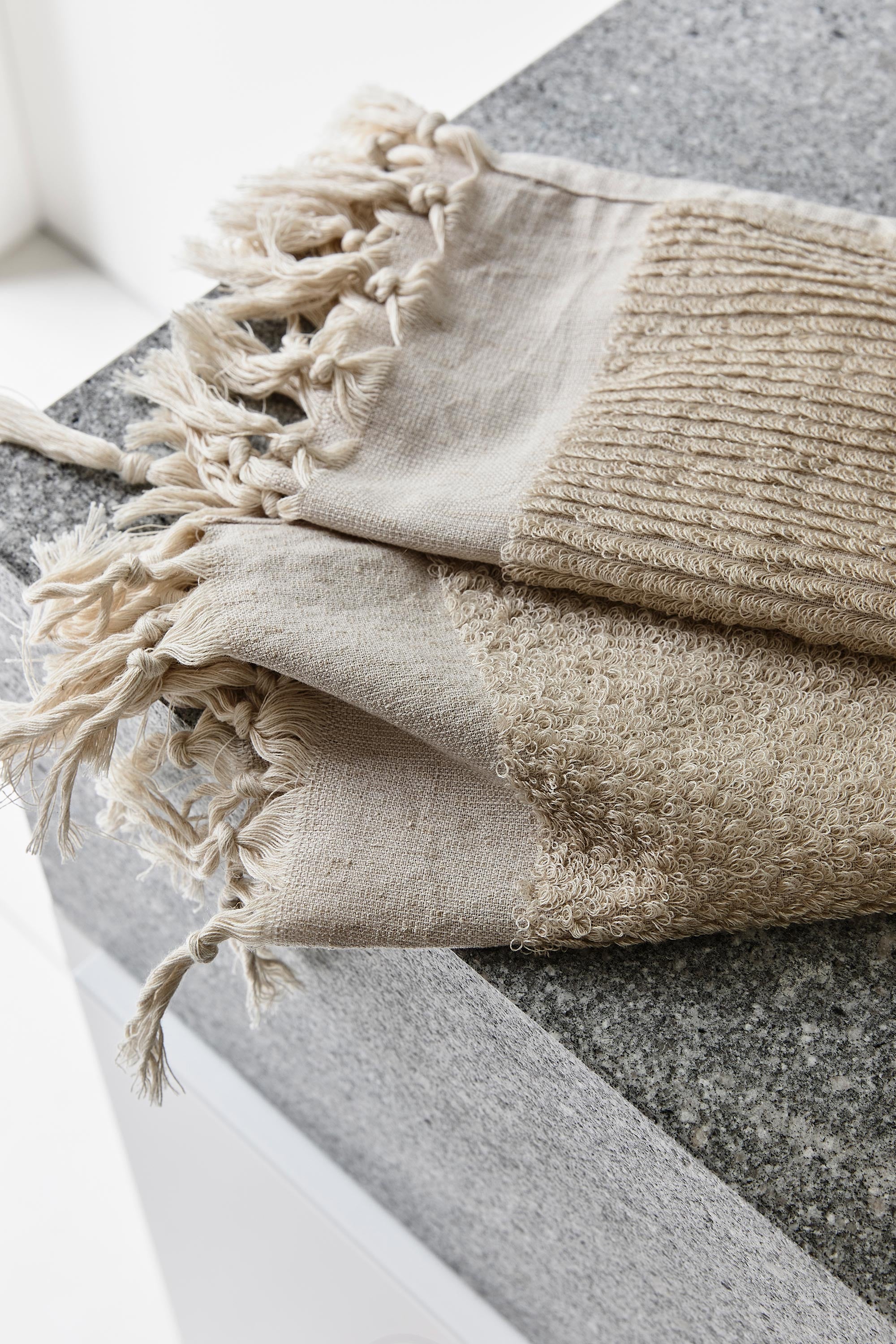 Linen Wave Hand Towel
Product Details
Our Hand Towel adds the perfect touch of texture, colour and softness into your bathroom, powder room, and kitchen.
Our products are made in Turkey on traditional shuttle-looms with time-honoured processes, enabling a level of uniqueness and superior quality that is uncommon today.
Material Details
100% natural linen, harvested from flax plants in Turkey.
A superior material, linen is more absorbent and longer-lasting.
Size Details
35 x 65 cm
Towel Care
Gentle cold to warm machine wash with a natural laundry detergent and either gentle tumble dry or line dry.
Snip any loose threads.
document.addEventListener('DOMContentLoaded', function() { function isIE() { const ua = window.navigator.userAgent; const msie = ua.indexOf('MSIE '); const trident = ua.indexOf('Trident/'); return (msie > 0 || trident > 0); } if (!isIE()) return; const hiddenInput = document.querySelector('#product-form-template--15270574719128__main input[name="id"]'); const noScriptInputWrapper = document.createElement('div'); const variantSwitcher = document.querySelector('variant-radios[data-section="template--15270574719128__main"]') || document.querySelector('variant-selects[data-section="template--15270574719128__main"]'); noScriptInputWrapper.innerHTML = document.querySelector('.product-form__noscript-wrapper-template--15270574719128__main').textContent; variantSwitcher.outerHTML = noScriptInputWrapper.outerHTML; document.querySelector('#Variants-template--15270574719128__main').addEventListener('change', function(event) { hiddenInput.value = event.currentTarget.value; }); });
{ "@context": "http://schema.org/", "@type": "Product", "name": "Linen Wave Hand Towel", "url": "https:\/\/loomtowels.com\/products\/natural-linen-wave-hand-towel", "image": [ "https:\/\/loomtowels.com\/cdn\/shop\/products\/Loom_LinenWave_Hand_01_2000x.jpg?v=1648629945" ], "description": "\nOur Hand Towel adds the perfect touch of texture, colour and softness into your bathroom, powder room, and kitchen.\nOur products are made in Turkey on traditional shuttle-looms with time-honoured processes, enabling a level of uniqueness and superior quality that is uncommon today.\n", "brand": { "@type": "Thing", "name": "Loom Towels AU" }, "offers": [{ "@type" : "Offer","availability" : "http://schema.org/InStock", "price" : 58.0, "priceCurrency" : "AUD", "url" : "https:\/\/loomtowels.com\/products\/natural-linen-wave-hand-towel?variant=41640207941784" } ] }