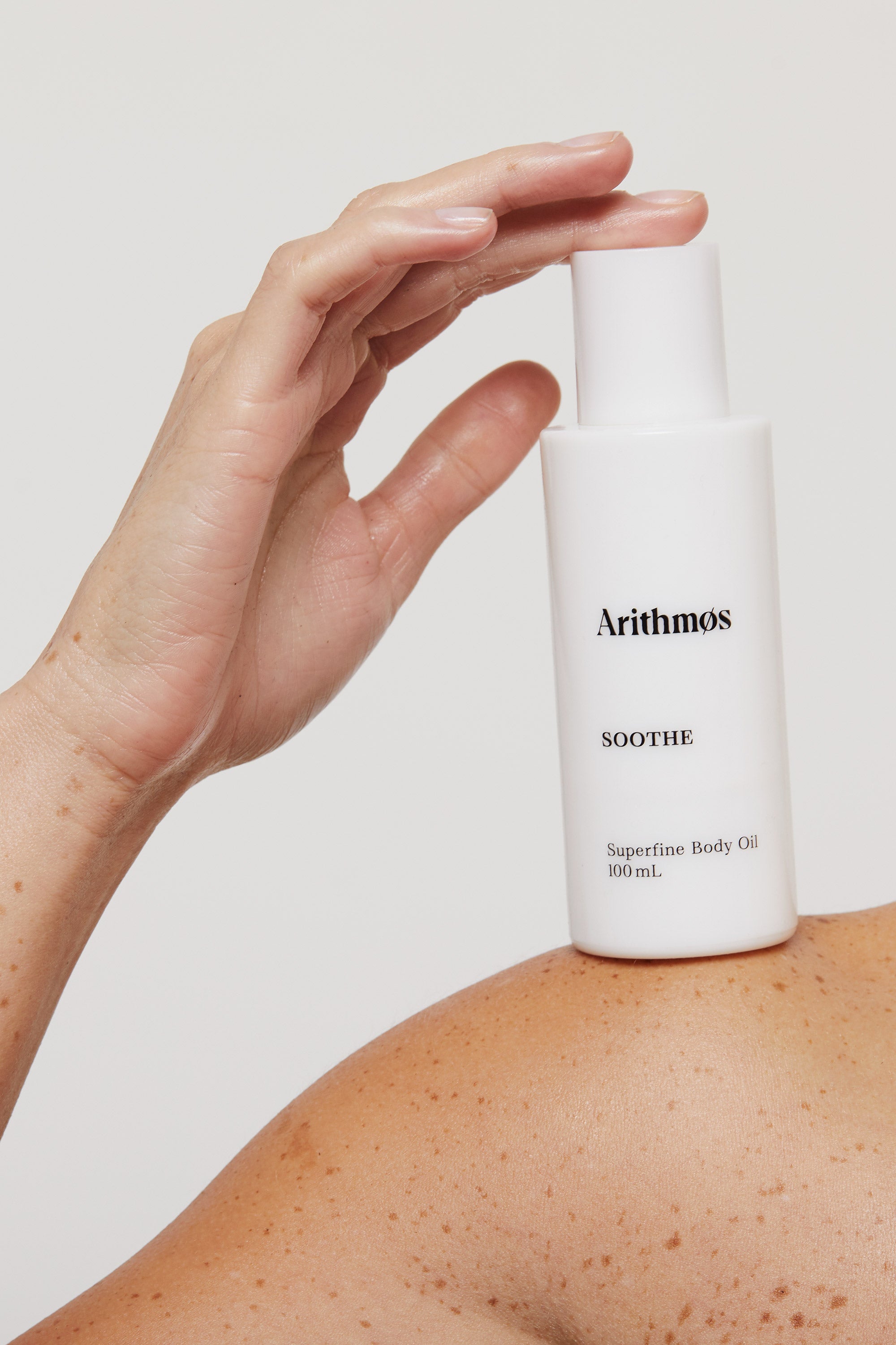 Arithmos Body Oil Soothe
Product Details
A luxurious superfine body oil to calm and relax mind.
Imbued with floral notes of rose and geranium, this lightweight oil sinks in immediately, bringing instant relief to dry, tight skin. Skin feels velvety soft and smooth, while you feel calm and composed.
Apply directly to damp skin, hair or add a few drops to your bath.
+ Made in Melbourne
+ High quality, certified organic ingredients*
+ Certified vegan and cruelty-free
+ Beautiful and eco friendly packaging
Brand Details
Arithmos specialise in hand-blended body care powered by fresh, natural plant-based oils to feed and nurture healthy skin.
Ingredients
Camellia Oleifera (Camellia) Seed Oil*, Simmondsia Chinensis (Jojoba) Seed Oil*, Rosa Canina (Rosehip) Fruit Oil*, Tocopherol (Vitamin E), Rosa Damascena (Rose) Flower Oil, Pelargonium Graveolens (Geranium) Flower Oil*, Pogostemon Cablin (Patchouli) Leaf Oil*, Cymbopogon Martini (Palmarosa) Oil*, Boswellia Serrata (Frankincense) Oil*.
Size Details
100ml
document.addEventListener('DOMContentLoaded', function() { function isIE() { const ua = window.navigator.userAgent; const msie = ua.indexOf('MSIE '); const trident = ua.indexOf('Trident/'); return (msie > 0 || trident > 0); } if (!isIE()) return; const hiddenInput = document.querySelector('#product-form-template--15270574719128__main input[name="id"]'); const noScriptInputWrapper = document.createElement('div'); const variantSwitcher = document.querySelector('variant-radios[data-section="template--15270574719128__main"]') || document.querySelector('variant-selects[data-section="template--15270574719128__main"]'); noScriptInputWrapper.innerHTML = document.querySelector('.product-form__noscript-wrapper-template--15270574719128__main').textContent; variantSwitcher.outerHTML = noScriptInputWrapper.outerHTML; document.querySelector('#Variants-template--15270574719128__main').addEventListener('change', function(event) { hiddenInput.value = event.currentTarget.value; }); });
{ "@context": "http://schema.org/", "@type": "Product", "name": "Arithmos Body Oil Soothe", "url": "https:\/\/loomtowels.com\/products\/arithmos-body-oil-soothe", "image": [ "https:\/\/loomtowels.com\/cdn\/shop\/products\/Loom_Arthimos_Soothe_02_2000x.jpg?v=1648880352" ], "description": "A luxurious superfine body oil to calm and relax mind.\nImbued with floral notes of rose and geranium, this lightweight oil sinks in immediately, bringing instant relief to dry, tight skin. Skin feels velvety soft and smooth, while you feel calm and composed.\nApply directly to damp skin, hair or add a few drops to your bath.\n+ Made in Melbourne+ High quality, certified organic ingredients*+ Certified vegan and cruelty-free+ Beautiful and eco friendly packaging", "sku": "ASBOS", "brand": { "@type": "Thing", "name": "Loom Towels AU" }, "offers": [{ "@type" : "Offer","sku": "ASBOS","availability" : "http://schema.org/InStock", "price" : 78.0, "priceCurrency" : "AUD", "url" : "https:\/\/loomtowels.com\/products\/arithmos-body-oil-soothe?variant=39767662624920" } ] }